If you are using an alternative fuel gas for welding, cutting, or brazing, you may need to re-evaluate your gas flow requirements. An operation using an alternate fuel gas, like propane, can require a much higher oxygen flow than a similar job using acetylene. Proper gas flow is an important part of maintaining productivity, efficiency, and safety.
SuperFlash provides high flow flashback arrestors for both regulators and torches. Models DG91N and DG91UA can provide users with flow rates that are twice as much as standard flashback arrestors. This will help users avoid choking out tips and equipment.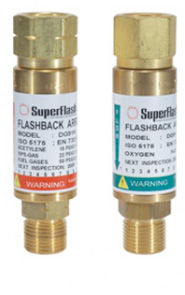 High Flow Regulator Ideal for size 4 or larger!
| | | | |
| --- | --- | --- | --- |
| Type of Gas | Inlet | Outlet | Part No. |
| Fuel Gas (LH) | 9/16" UNF1 F | 9/16" UNF1 M | 0701-1123 |
| | RR 41/64"2 F | RR 41/64"2 M | 0701-1118 |
| | 7/8" UNF3 F | 7/8" UNF3 M | 0701-3057 |
| Hydrogen (LH) | 9/16" UNF1 F | 9/16" UNF1 M | 0701-3093* |
| Oxygen (RH) | 9/16" UNF1 F | 9/16" UNF1 M | 0701-1129 |
| | RR 41/64"2 F | RR 41/64"2 M | 0701-1119 |
| | 7/8" UNF3 F | 7/8" UNF3 M | 0701-3058 |