UL and BAM approved, and 100% tested for reverse flow, leak integrity and flashback protection with actual flashbacks, SuperFlash's flashback arrestors are the worldwide leader in safety, quality, and functionality. Each arrestor contains a built-in 100 micron inlet filter, reverse flow check valve, 3-5 micron flame barrier, and a thermal shutoff valve in point of supply models. Not only will you receive adequate gas flow, you will have the highest quality safety device available.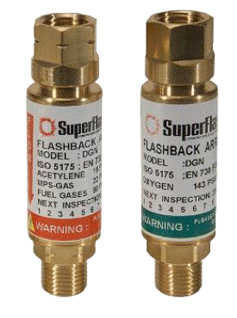 Standard Flow Regulator
To help meet ANSI Z49.1 2012, OHSA, and NFPA safety requirements while protecting against the most common accidents we offer the DGN model, which installs easily on the outlet fitting of most regulators and gas supply points. Each flashback arrestor is 100% tested with actual flashbacks, and have built in 100 micron inlet filters, reverse flow check valves, flame barriers, and thermal shut off valves. Model DGND includes all the features of the DGN with the addition of a pressure relief valve that vents excess pressure to the atmosphere.
| | | | |
| --- | --- | --- | --- |
| Type of Gas | Inlet | Outlet | Part No. |
| Fuel Gas (LH) | 9/16" UNF1 F | 9/16" UNF1 M | 0701-4123 |
| | 1/4" NPT F | 1/4" NPT F | EDI-0004 |
| | 1/4" NPT F | 1/4" NPT F | 0701-0299 |
| Hydrogen (LH) | RR 41/64"2 F | RR 41/64"2 M | 0701-4350* |
| Oxygen (RH) | 9/16" UNF1 F | 9/16" UNF1 M | 0701-4128 |
| | 1/4" NPT F | 1/4" NPT F | EDI-0001 |
| | RR 41/64"2 F | RR 41/64"2 M | 0701-0312 |