SuperFlash has expanded its product offerings to include more stainless steel flashback arrestors. In addition to the standard high flow stainless steel flashback arrestor (model DG91N-SS), three additional versions are available to cover a large range of flow rates and applications. No matter what your situation is, we can provide a flashback arrestor made from stainless steel, suitable for use with higher purity gases, and in more demanding environments.
Stainless Steel arrestors are designed for oxygen, hydrogen, and other flammable gases where all stainless steel type 316 with Viton or other elastomer are needed. These flash arrestors are great for lab use, and won't corrode.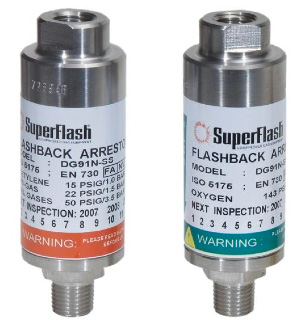 Specifications
Threads
In accordance with EN 560, ISO 3253 for common connections:
- Fuel Gas: 1/4" NPT
- Oxygen/Compressed Air: 1/4" NPT


Gas Types
Acetylene (A), Town Gas, Compressed Air (D), Ethylene (E), Hydrogen (H), Natural Gas (Methane) (M), Oxygen (O), Propane, MPS Methylacetylen-Propadien-Mixture (Y)
Working Pressure
15 PSIG Acetylene | 50 PSIG Hydrogen | 50 PSIG LPG | 143 PSIG Oxygen
Maintenance
According to TRAC 207, 9.36 and BGV D1, §49, each device should be examined at least once a year. If you are interested in the PVGD flashback arrestor testing unit, please contact us and we will be happy to assist you. Note: Safety devices may be opened and repaired only by the manufacturer.